カービィのおもちゃ箱 ピンボール
Exclusive
カービィのおもちゃ箱 ピンボール / Kirby's Toy Box - Pinball
Well this is something I have been after for a while, the first of 2 current Kirby downloads… Kirby Pinball! It's lots of fun, but I think Gator Ball for the Game Boy was more fun. If you have this cart have no worries about playing it, as this game and seemingly other Kirby games in the same set have unlimited start ups.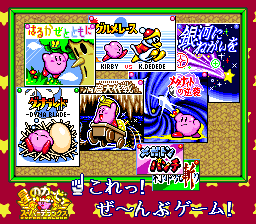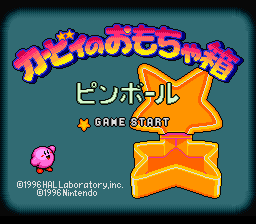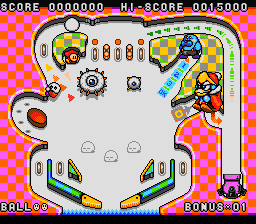 There is also lots of interesting bits of code in here:
Offset: 0x50E7
SFC LiveProject Version2.00 Mon Aug 14 1995
KT_PINBA
KT_HOSIK
KT_GLGLB
KT_ARANG
KT_PACHI
KT_BASEB
KT_CANON
KT_BRALY
KT_CURSOT
1996 NINTENDO
1996 HAL LABORATORY.INC.

Offset: Various
ProjectBank.EXEC
ProjectBank.01

Offset: 0x234A, 0x250A
START OF MOUSE BIOS
...
MODIFIED FROM SHVC MOUSE BIOS Ver1.00END OF MOUSE BIOS

Offset: 0x4B46
CG0
CG1
CG2
CG3
GmkSystemBank
ProjectBank.EXE
CProjectBank
INTSYS
CHRMK_DATA
ChrmkData
OBJMK_DATA
ANIMK_DATA
SFXMK_DATA
GmkFileBank

If you enjoy this, please consider linking to this page or https://superfamicom.org or maybe even donating something useful or sending me a post card.